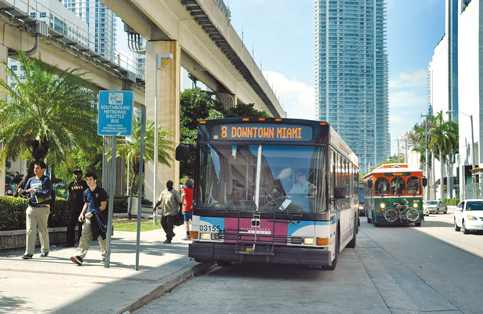 I sat down with Alice Bravo, Miami-Dade County's Transit Director, to ask why her organization chose to take the unprecedented step of running its buses on time as an Art Basel performance piece.
"We wanted to think big! Bold! Do something that's never been done in South Florida!" exclaimed Ms. Bravo, gesticulating enthusiastically.
"Art Basel is this coming week, an explosion of creativity across Miami that demands we push envelopes and break barriers! And Miami-Dade Transit, having been swept up in last year's creative atmosphere, wanted to be ready with something for the ages!"
An exhaustive study helmed by city planners, artistic luminaries, and average county residents was commissioned. After six months of work, they concluded that the most inspiring performance piece the county could organize would be for its buses to show up when they are supposed to.
"It's never been done!" cried Ms. Bravo. "This is so exciting!"
A quick, unscientific survey of regular Miami-Dade Transit riders found that 100% of them looked at me as if I were absolutely insane when informed that their buses would run less than forty minutes late.
Upon inquiring whether the performance piece would be extended beyond Art Basel, Ms. Bravo laughed in my face.
If you like our stories, check out the first free chapter of our new book.
'Miami Creation Myth' author Andrew Otazo has advised officials on Cuba policy, worked for the Mexican president, fired a tank, and ran with 30lbs of trash.
Check out the first free chapter of Andrew's upcoming book here.