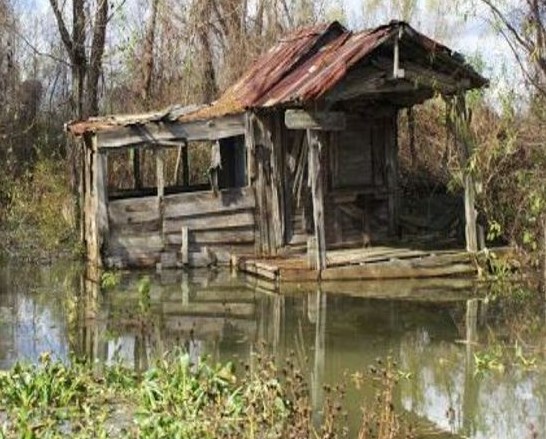 A wood and cinderblock shed located 15 miles due west of SW Krome Avenue and perhaps 10 miles south of the Tamiami Trail as the crow flies recently sold to Propiedades de Luxo LLC, a Brazilian real estate conglomerate, for $703,200. Built in 1963 by Patrick "Mad Pat" Cunningham, a notoriously unbalanced Gladesman with a penchant for yelling at passing alligators to stop spying for the CIA, the building's foundations measure 10 by 12 feet.
Abandoned since 1968, the shack's front porch, back wall, and roof long ago collapsed into a rotting jumble mostly composed of daddy long-legs, rattlesnakes, mosquito eggs, and trace amounts of wood. The side walls remain somewhat upright only because they lean against a 40-foot poisonwood tree—one of the most toxic plants in the state—currently growing directly through the former living quarters.
Despite lacking running water, electricity, indoor plumbing, or any connection whatsoever to civilization, as it was built on a hardwood hammock in the middle of Everglades National Park, the shanty sparked a vicious bidding war as soon as it was listed.
"This is a seller's market," said Julian Gaviria, a Miami-based software developer who offered $50,000 over the asking price. "Forget purchasing a house in Kendall, Doral, much less the Gables for under $1 million. And they'll literally laugh you out of the room if you propose anything as ludicrous as a 30-year mortgage."
"Sure, it's a little out of the way," explained Michael Beum, a Fort Lauderdale sales associate. "But it's honestly not that bad. You just drive half an hour west on Tamiami Trail, park on the left side of the levee, kayak five miles down the L-67 canal, hang a right at the third buttonwood tree, paddle 40 minutes southwest through the sawgrass, make a left at the palmetto patch, portage Vulture Hammock, and you're practically there! It's totally worth it if I want my kids to have anything resembling a yard."
The seller originally demanded $550,000 cash, two albino unicorns, and a newborn's untainted soul. However, Propiedades de Luxo reportedly outbid all other comers by offering over $150,000 above asking price, four rainbow unicorns, five newborn souls, and two kilos of Guarujá cocaine of unspecified quality. The Brazilian developer plans to immediately place the shack on the rental market for $1,800 a month without making the slightest renovation. The waiting list of prospective renters is already 300 people long.
If you like our stories, check out the first free chapter of our new book.
'Miami Creation Myth' author Andrew Otazo has advised officials on Cuba policy, worked for the Mexican president, fired a tank, and ran with 30lbs of trash.
Check out the first free chapter of Andrew's upcoming book here.