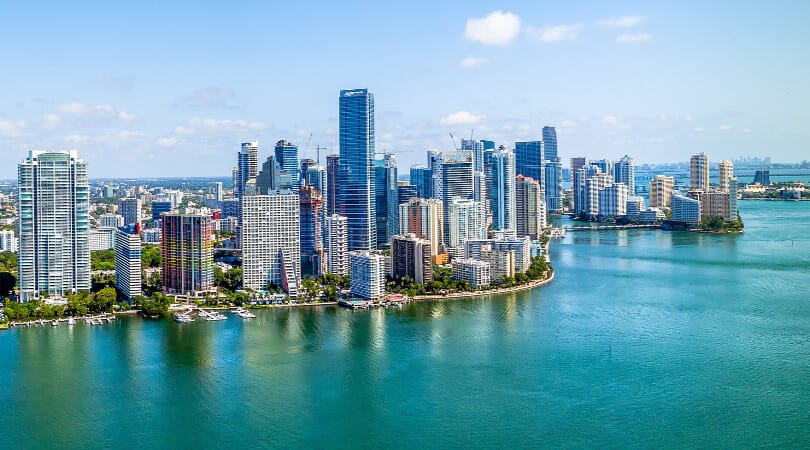 "I'm just tired of watching people who absolutely refuse to integrate into America pour over our borders," explained a man whose grandparents fled a Caribbean dictatorship and spent 40 years in the United States without learning English.
His Brickell apartment faced a 2,000-year-old Tequesta structure in the heart of Miami, the capital of a sprawling nation before Spanish diseases decimated its population. Facing southeast, one could just make out the Key Biscayne lighthouse, which was burned to the ground by Seminole warriors in 1836 in an attempt to stop white settlers from stealing their land.
"They have no connection to  America, you know?" he continued. "Or our history, our way of life. They're nothing like the people who built this country."
Miami Beach loomed to the northeast, originally an inundated mangrove strip literally raised above Biscayne Bay by Bahamians who ran the risk of being legally lynched if they were caught on the island after sunset.
"They're criminals!" he exclaimed. "They break the law by crossing into the U.S. illegally. They bring drugs, crime, and a degenerate mentality, and should all be locked up!"
To the south, Brickell's iconic skyline, the expression of Miami's status as a global city, was primarily funded by South American drug money. Scanning north, many of its brand-new condominiums were purchased by Russian oligarchs, war criminals, and modern-day American robber barons to hide their ill-gotten gains from the federal government.
"I worked for everything I have!" continued the man, whose family received cash assistance, health care, educational and employment services, and automatic residency when they arrived.
He grew increasingly animated. "These new immigrants just want to live off live off government services, take the money that I earned from the sweat of my brow!"
To the west, cars zoomed along I-95, a highway that was purposefully built through the middle of Overtown's affluent business district by racist state and federal officials, shattering one of the country's most prominent Black neighborhoods.
The man, regaining some of his composure, served himself a glass of Dominican rum, added a soft drink processed by Hondurans on Miccosukee land, sat on an antique Haitian wicker chair, popped open a button on a Vietnamese shirt, placed his Indonesian shoes on a floor tiled by Salvadorans, and exhaled loudly.
"These immigrants," he said at last. "They take everything and contribute nothing."
He shook his head in knowing disapproval.
"They just don't belong."
If you like our stories, check out the first free chapter of our new book.
'Miami Creation Myth' author Andrew Otazo has advised officials on Cuba policy, worked for the Mexican president, fired a tank, and ran with 30lbs of trash.
Check out the first free chapter of Andrew's upcoming book here.