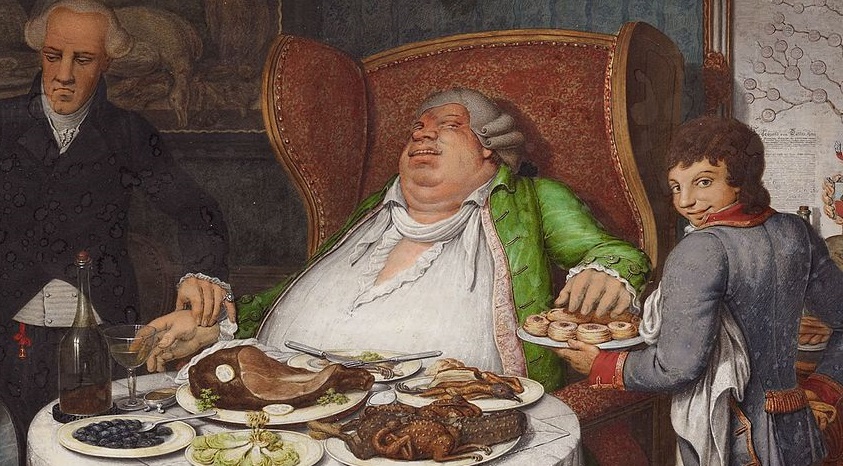 A deacon distributed traditional San Gibin antacids to all worshipers as they passed through Saint Augustine Catholic Church's ornate brass doors.
"Low blood pressure be with you," exclaimed the deacon to his parishioners.
"And also with you," they murmured back.
Catholic Latinos across the United States celebrated San Gibin's feast day by cooking steaming pots rice and beans, roasting lechón, preparing tamales, and screaming at each other about politics.
San Gibin, practically unknown in wider gringo America, is one of Latinos' favorite and most aloof religious figures. Some claim the patron saint of immoderation, anarchic hate-eating, and dolor de estomago choked to death on a chicken bone. Others claim he literally rolled out of bed, through his front door, down a hill, and off a cliff. Many more believe he ignored his abuela's warnings, went swimming after a meal, and simultaneously suffered una sirimba y una embolia like un mongo.
Regardless, tradition dictates celebrants dedicate the day after San Gibin's feast to self-hatred, deep introspection, and resolutions to live healthier lives – all of which will be promptly ignored come Christmas.
If you like our stories, read the first free chapter of our book.
'Miami Creation Myth' author Andrew Otazo has advised officials on Cuba policy, worked for the Mexican president, fired a tank, and ran with 30lbs of trash.
Check out the first free chapter of Andrew's upcoming book here.