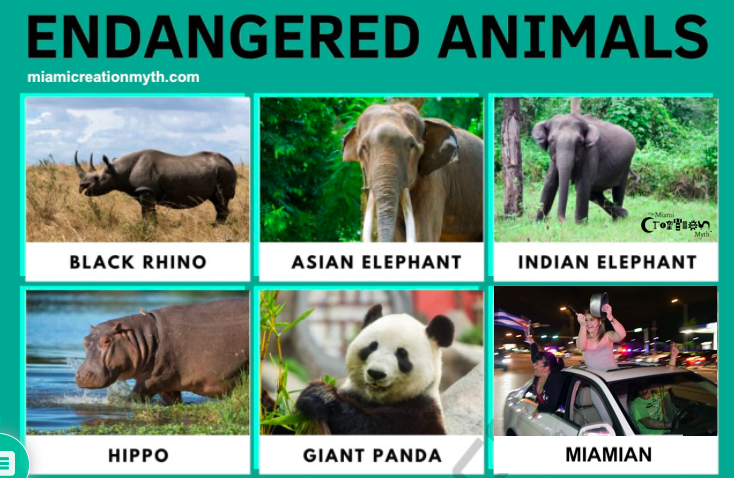 The Environmental Protection Agency (EPA) announced it will officially place native Miamians on its Endangered Species List given their dwindling numbers and uncertain medium-term outlook.
"I'm afraid South Florida is likely to lose its entire native Miamian population within a few decades," explained Michael S. Regan, the EPA's Administrator, at an outdoor media conference before Brickell City Centre. "Their numbers are cratering, and if we don't do something soon, the only Miamians you'll ever see will be on reruns of ¿Qué Pasa USA? Yes, you have a question?"
"Indeed I do," responded Tamara Vichy from WLRN. "What is causing this collapse in native Miamian numbers?"
"Habitat loss is a huge driving factor," exclaimed Regan, pointing at his surroundings. "I mean, just look around you! Brickell teamed with Miamians just a decade ago, but now all you see are condos populated by South American oligarchs, New Yorkers, and Californians, like that douchebag over there!
Regan pointed at a pale, lanky man in a designer hoodie carrying a MacBook Air.
"How'd you know I'm from California?" asked the startled yuppie.
"Get out of here, ya punk!" rejoined Regan, waving him away before turning back to Vichy. "My point is, you've replaced thousands low-rise apartments and single family homes with luxury skyscrapers. These environments simply aren't conducive to a healthy population of Miamians. So, the invasives from out of town simply filled the vacuum."
"How has this affected Miamians' local food sources?" asked Esther Burlingame of the New Tropic.
"It's absolutely devastated them," replied Regan. "Untold numbers of Fresco y Más, Presidente Supermarkets, and Sedanos have been replaced by Trader Joes and Whole Foods. Not to mention the Starbucks and Dr. Smoods that pushed out local cafeterias. What are Miamians supposed to eat on a daily basis? Overpriced kale salads and single-source drip coffee? They'd literally rather starve to death."
"What neighborhoods have been hit hardest?" inquired Barbara Lopez from El Nuevo Herald.
Regan's face grew dark.
"They all have," he said. "It started out in Brickell and Wynwood, but Miamians are quickly disappearing from Little Haiti, Overtown, Allapattah,  Little Havana, and Coconut Grove. Even previous healthy Miamian population centers out west like Kendall, Hialeah, and Doral are feeling the squeeze."
"Is there anything the public can do to help?" demanded Mario Gutierrez of the Miami New Times.
"I honestly don't know," responded Regan in a depressed tone. "If you happen to see a native Miamian in the wild, offer them a croqueta, maybe a sip of cortadito, give them a pat on the head, and cherish that magical moment. We might already be too far gone to do anything else."
If you like our stories, check out the first free chapter of our new book.
'Miami Creation Myth' author Andrew Otazo has advised officials on Cuba policy, worked for the Mexican president, fired a tank, and ran with 30lbs of trash.
Check out the first free chapter of Andrew's upcoming book here.