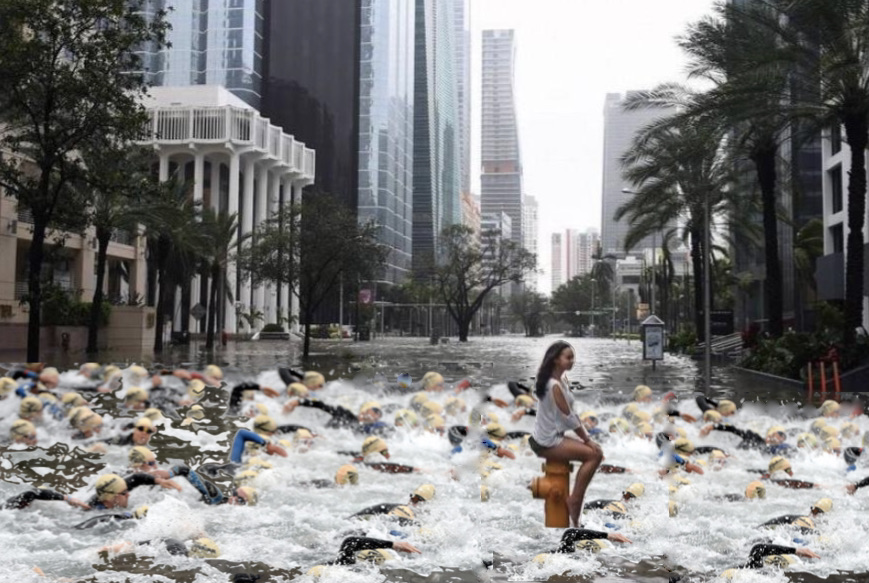 The U.S. Triathlon Association today named Miami the most swimmable city in the United States on account that its residents are most likely to need to breaststroke from their front doors to their cars on any given day. Surveyed Miamians reacted to this news by giving me odd looks before sloshing through overflowing street drains on their way down the sidewalk.
"Climate change, rising sea levels, and increasingly frequent sunny day flooding may pose an existential threat to Miami's viability, but it's also a great opportunity for more people to get into swimming!" exclaimed U.S. Triathlon Association President Amanda Jervais.
Open water swimming aficionados are hailing this news by setting up pool lanes in some of Miami's most flood-prone areas. Entire schools of swimmers were recently observed splashing through Downtown Miami's Bayfront Park.
"I know sea level rise is terrible for the long-term survival of my city," exclaimed a breathless José de la Fuente after finishing a 3,200 meter swim down Biscayne Boulevard. "But man is it great cardio!"
Relieved that it no longer has to install pedestrian-friendly infrastructure like protected sidewalks and shade trees, the City of Miami is simply painting black guidelines on its most flooded thoroughfares.
"You can't walk down a street with two feet of water," explained City of Miami Infrastructure Director Peter Townshend, "But at least now you can freestyle it in a straight line."
If you like our stories, check out the first free chapter of our new book.
'Miami Creation Myth' author Andrew Otazo has advised officials on Cuba policy, worked for the Mexican president, fired a tank, and ran with 30lbs of trash.
Check out the first free chapter of Andrew's upcoming book here.