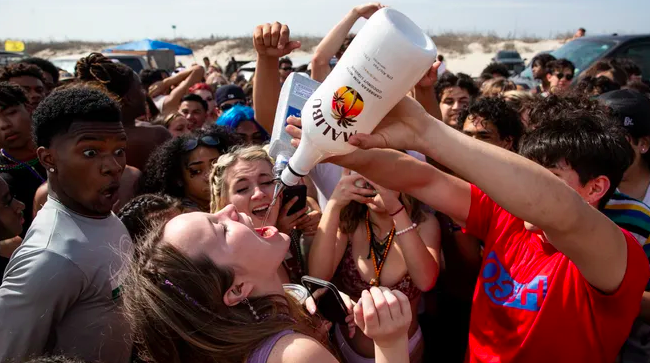 Several thousand American tourists squinted in the early morning light as they exited Krome Detention Center and boarded busses headed for the Broward County border. This followed a broad crackdown across Miami on Americans who migrated over Spring Break without a requisite travel visa or green card. Many were unaccompanied college students who did not have family in the city or, apparently, parents who instilled a healthy fear of the chancleta.
Miami immigrant hardliners claim the Americans are responsible for a sharp rise in police car twerking, public defecation, unpaid restaurant bills, topless street brawls, and TikTok bullshit throughout the city. Their defenders assert they are fleeing freezing weather, bland food, and vitamin D deficiencies, and forcibly returning them to those dangerous conditions is highly unethical.
"Look, I understand our detractors' points," explained Miami-Dade Mayor Daniella Levine Cava at a press conference. "But Miami has a border for a reason. Our ancestors came from Haiti, Cuba, Mexico, Jamaica, Central and South America, and yes, the United States, the right way. They didn't sneak over the border in rented Slingshots like this new wave of Americans. If they want to enter Miami, they'll have to wait their turn like everyone else."
Miami-Dade County also announced a new Remain in Broward policy, wherein American tourists will be housed in camps in Miramar and Pembroke Pines until their applications can be fully processed. However, this move, doomed the Americans to a dangerous shortage of cafecito and guapería. Moreover, though Broward is very much ensconced in the United States, many of the relocated tourists claimed they hailed from crazy-sounding locations like "Illinois" and "North Carolina," and were therefore completely unequipped to survive Broward's mean streets.
In an even bolder move, Levine Cava stated she would ban practically all American travel into Miami. "They don't speak our languages," she said. "They wear crocs and New England Patriots jerseys. And they haven't the slightest clue how to order at a ventanita. These people are just culturally incompatible with Miami's residents, and I see no choice but to close the border down until can we figure out what the hell is going on."
Levine Cava turned irate when asked if this was a racist move specifically targeting Americans. "That's a stupid question," snapped the mayor. "We have very liberal immigration policies with Monroe, Broward, Palm Beach, Orange, and Hillsborough Counties, as well as the State of Hawaii. Just because we're closing the border to 61 Florida counties and 48 U.S. states doesn't mean we're targeting Americans."
To enforce this new policy, Miami-Dade County is completing construction of a 20-mile wall from North Okeechobee Road to Hallandale Beach, replete with an alligator-filled moat.
"We didn't plan on the alligators," explained Levine-Cava. "They just kind of showed up. But they're welcome to stay."
If you like our stories, check out the first free chapter of our new book.
'Miami Creation Myth' author Andrew Otazo has advised officials on Cuba policy, worked for the Mexican president, fired a tank, and ran with 30lbs of trash.
Check out the first free chapter of Andrew's upcoming book here.