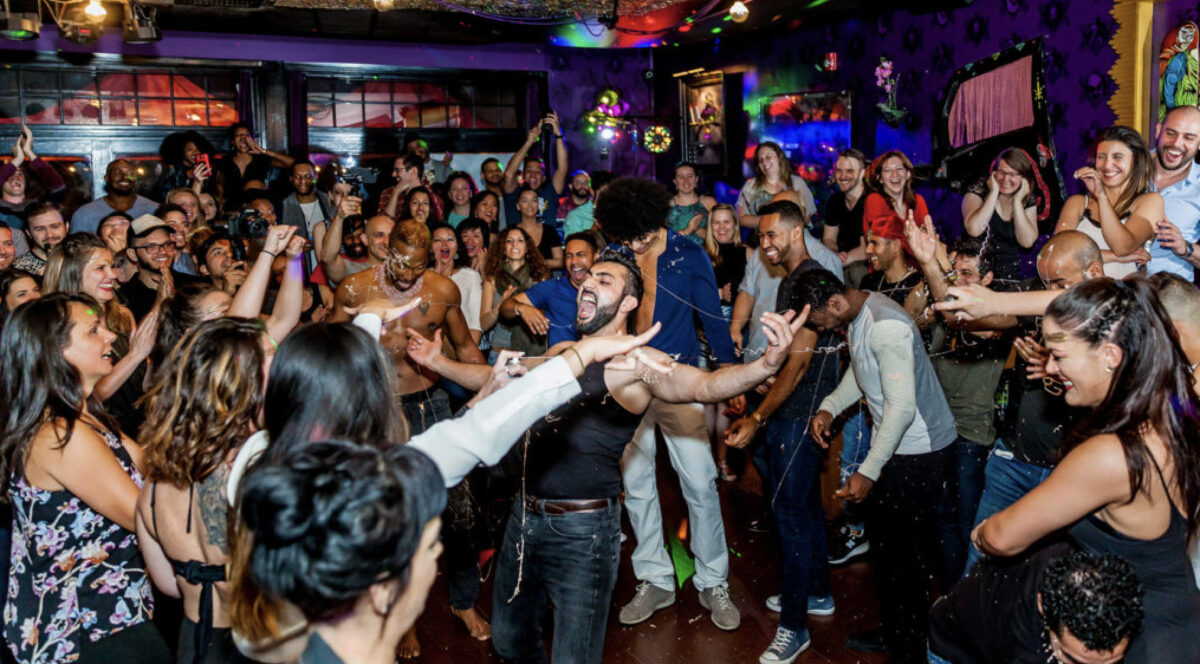 Danielle Schubert crumpled onto her living room sofa, grasped her head in both hands, and screamed.
45 Venezuelans, Cubans, Colombians, Mexicans, and sundry other Latinos standing in her living room turned to see what the commotion was about, shrugged, and went back to laughing, yelling, dancing, and blithely ignoring their host. It was 5:30 in the morning and none of them had the slightest intention of leaving her house.
Things did not start this way for poor Danielle. In her late 20s and a recent expat from upstate New York, she moved into a Coconut Grove townhouse earlier in the year to pursue a career in Miami's private equity sector. Long hours at the office made it difficult to build a circle of friends in the city, especially since practically all her coworkers were also recent arrivals.
So, Danielle decided to throw a holiday party to help her meet new people. To ensure it was well-attended, she asked Gianfranco, her Nicaraguan neighbor, to help with the invite list, and my man delivered. The gregarious Nica invited his three cousins, who invited their 12 soccer friends, who invited their combined eight girlfriends and their 29 biffles, and so on and so forth.
At least initially, the party was a smashing success. Danielle's Latino guests made everyone take shots, blasted Bad Bunny, and taught her female coworkers how to dance salsa and bachata while their boyfriends glared. It's all good, they were super soft.
By 1:30 AM, all the Americans had left. And yet, a good 30 Latinos continued partying. Danielle chocked it up to their exotic, life-loving culture. So, she kept dancing and pretending to mouth along to "Tití me preguntó."
By 2:30, Danielle was getting tired. She began making comments about how late it was, how she wanted to go to the gym in the morning, etc., etc., and was resolutely ignored by everyone.
By 3 AM, Danielle straight up told her guests that she had a blast, and yes, they should absolutely get brunch, but it was time for her to go to bed. The now resident Latinos all agreed and began making their despedidas.
But then the oddest thing happened.
The Latinos kissed and hugged goodbye, but never left. They just knotted themselves into a tight cluster that migrated from the kitchen to the living room, to the landing, back to the kitchen, and so on. Every 15 minutes, they'd repeat their farewells, but wouldn't fucking leave. They once moved to Danielle's front stoop, but then popped right back into the foyer before she could lock the door.
At 4:45, a new group of 15 Hispanic revelers (invited by Gianfranco's girlfriend's second cousin's sister-in-law) burst through the door after a wild night at Club Space, Bacardí handles and champaign bottles in hand, injecting new life into the seemingly undying party.
45 minutes later, Danielle had her very public breakdown and yelled at everyone to leave. Slightly off put by the outburst, people started trickling out. The last out the door, Gianfranco turned around on the driveway as the sun rose above Danielle's bougainvilleas.
"You're crazy, gringa!" he laughed and waved. "Let's do it again tonight!"
If you like our stories, check out the first free chapter of our new book.
'Miami Creation Myth' author Andrew Otazo has advised officials on Cuba policy, worked for the Mexican president, fired a tank, and ran with 30lbs of trash.
Check out the first free chapter of Andrew's upcoming book here.